SAFETY, DURABILITY, SPEED
At Victaulic our pipe joining system solutions and products are crafted with the highest level of system durability for faster, more accurate fabricating, while meeting the most challenging business requirements. In addition, the time normally needed to complete complex pipe joining jobs is greatly reduced.
safer system installations
compressed construction schedules
simplified Maintenance
confined space installations
safer system installations
SAFER SYSTEM INSTALLATIONS
Victaulic pipe joining solutions are designed to be fast, but more importantly, they are designed to be safe.  Our solutions eliminate the need for hotworks making them inherently safer, but the speed at which they are installed translates to fewer man-hours on the job and thereby reduced risk.
Our products are designed to be simple, durable but above all else, safe.
In 2014, it was reported that construction laborers ranked 12th in the top 25 most dangerous jobs in the United States. As a company who provides products for the construction industry, Victaulic recognizes the role our products play in contributing to a safer jobsite. Take for example some of our innovations all centered around safety first.
Visual inspectability of proper coupling assembly. Instead of needing a torque wrench to ensure proper installation, for most of Victaulic's products, customers can simply verify if a coupling is installed properly by visually checking that the bolt pads are touching.*
Victaulic's patented Installation-Ready Piping Joining™ Technology, now available on couplings and fittings, reduces the number of loose parts typically associated with standard grooved couplings. Less parts to drop = less risk.
Nominal 3 to 1 safety factor on Victaulic product pressure ratings.
Beyond being just a faster way to install pipelines, our products are also safer than welding, brazing, soldering or fusing because they install without the use of flames, fire or heat. The benefits which are:
Pipe fitters are not exposed to the damaging fumes currently cited as the cause of serious health issues in a series of lawsuits
No costly fire watch manpower or fire shielding is required
No tanks, no torches and no potentially dangerous lead lines
WHY ELIMINATE THE HAZARDS OF WELDING?
According to a leading firm in the field of personal injury and negligence law, "Welding is among the most dangerous industrial activities. The dangers of welding are fire threat, electric shock, compressed gases, toxic fumes, and lack of personal protection for the eyes, hands, feet, and body."
CLOAKED IN SAFETY
Safety has been a part of the Victaulic culture since its beginning nearly a century ago. Its commitment to innovation in its products and as an employer is what sets it apart as a company. Victaulic is about more than just the products and services it offers around the world - it's an organization committed to leading the industry with a positive impact on people inside and outside the company. Take for example the advancements in protective wear the Victaulic was able to develop to further protect its employees.
In December 2014 Victaulic employees began wearing new jackets at their U.S. foundry facilities. The jackets were part of a joint effort with Toray Fluorofibers and Majestic Fire Apparel to develop state of the art protective wear. Sharing this advancement with other industry users will be the next step, according to Bill D'Amico, Victaulic's Global Environmental Health & Safety Director.
As stated by D'Amico, "We will share this advancement with others in the industry in the hopes of advancing foundry safety worldwide and, more importantly, protecting our most valuable asset - our employees."
*Not every Victaulic product features "pad-to-pad" inspectability. Always reference Victaulic's product installation instructions to confirm properly assembly requirements for that product.
compressed construction schedules
What Is a Grooved Piping System?
A grooved piping system is a fast, clean, safe, and dependable way of joining pipe as opposed to welding, threading, flanging and soldering. Traditionally, grooves are rolled or cut into the ends of the pipe on the job or in the fab shop while fittings, valves and other components are manufactured with the same groove profiles. Until recently, the pipe, fittings and other piping components were all joined using grooved mechanical couplings. Click here for more information on Victaulic's Grooved Technology
Now, with the introduction of Victaulic's Installation-Ready™ line of fittings, in some applications, pipe can be joined with just a fitting. See Victaulic's line of Installation-Ready™ fittings for Copper or our FireLock™ Installation-Ready™ fittings.
What Is the Time of Installation Using Grooved Couplings Vs. Welding?
While standard grooved pipe couplings install 5 times faster than welded joints and 3 times faster than flanging, Victaulic's grooved piping products install up to 10 times faster than other pipe joining methods. The speed and ease of installation that Victaulic provides to its customers stems from nearly 100 years of innovation and customer research. The patented Installation-Ready product line is a perfect example of how Victaulic is committed to designing, developing and providing our customers with products that target our customers' need to compress their project schedules saving them time in the field and money on the bottom line.
We've made maintenance a breeze. Now changing out or servicing equipment is as easy as the turn of a bolt.
Just like maintaining a home, maintaining a building can be expensive, time-consuming and just plain difficult. At Victaulic, we are committed to making maintenance a little less difficult and therefore a little more likely to happen. And since the industry accepts that properly maintained HVAC systems use 15-20% less energy, that is like putting cash back into an owner's pocket.
HOW DOES VICTAULIC SIMPLIFY MAINTENANCE VERSUS OTHER JOINING METHODS?
By using Victaulic mechanical piping systems, changing out or servicing equipment is as easy as loosening two bolts and two nuts.
Additionally, a Victaulic grooved coupling gasket has a C-shaped cross section seal that is durable enough to handle significant compressive and cyclical loading. All this means is that a system can be pressurized and depressurized repeatedly without fatiguing the rubber.
It is important to know that in a flanged system, the torque on the bolts employs a high compressive load on the internal gasket; this can cause the gasket to tear during disassembly.
HOW DO VICTAULIC'S VIBRATION-DAMPENING QUALITIES REDUCE MAINTENANCE?
A Victaulic mechanical pipe joining system accommodates vibration within the system, without the need for periodic product repair or replacement. Our Victaulic solutions localize vibrations by allowing the pipe to move and vibrate within the Victaulic coupling.
Welded or flanged piping systems use rubber bellows or a braided flexible hose to accommodate these vibrations; these materials can wear out over time, adding to building costs and downtime.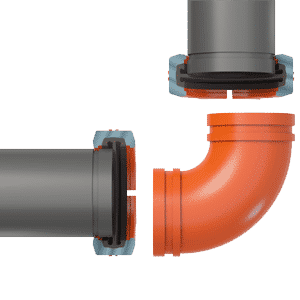 HOW DOES APPLYING A VICTAULIC COUPLING AT EVERY JOINT REDUCE MAINTENANCE?
A Victaulic coupling provides a union at every joint, allowing easy access to the system as well as flexibility for future system expansion. Replacing corrupt pipe sections, or slipping in a tee to expand or join piping systems is easily accomplished.
A welded system does not provide any unions or easy system access points.
confined space installations
When it comes to piping systems, it's not uncommon to have to squeeze a large system into a limited space. This is particularly true with retrofit projects. However, this issue can also arise in the piping galleries for municipal projects, ballast systems on ships, mechanical rooms on multi-residential buildings, and trench piping in data centers.
3 Reasons to use Victaulic in Confined Spaces
1. Reduce the possibility for rework associated with field mate-up problems.
Unlike welding, where field mate-up issues can mean extensive and expensive re-work, Victaulic grooved couplings allow for a full 360° rotation of the pipe and system components before tightening, so that proper alignment can be achieved in the field.
2. Install piping systems in closer proximity to one another.
Victaulic grooved systems feature a lower profile compared to flanged systems. As such, grooved piping systems can be installed in closer proximity to one another.
3. Eliminate safety risks associated with welding.
Victaulic grooved systems are installed without the use of flame or fume, which is of critical importance when installing piping systems within confined spaces.