ACCOMMODATING SEISMIC MOVEMENT
IT CAN BE DONE WITH GROOVED TECHNOLOGY AND HERE IS HOW AND WHY YOU WANT TO USE IT.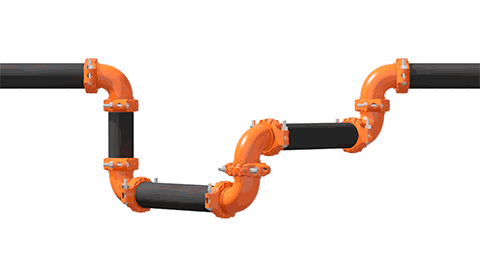 The main approach to piping a building to accommodate seismic activity is to use a rigid piping system that will minimize overall piping movement. Typically, more than 95 percent of the grooved couplings used in a piping system will be rigid, while the remainder will be flexible couplings. Why is that important? Because too much swing could affect other pipes and equipment, despite being within the capability of the grooved coupling. The key to effectively accommodating movement in a building is to allow controlled movement and that can be done with grooved technology.
As a reminder, there are two basic grooved coupling styles:
Flexible grooved couplings - These allow a limited amount of angular movement.
Rigid grooved couplings - These do not allow movement and can be used wherever immobility in the pipe joint is needed, similar to a flanged or welded joint.
Victaulic couplings were tested at the ATLSS
center, a member of the nationally recognized
NEES (Network for Earthquake Engineering Simulations) testing group, to prove the
durability of Victaulic grooved system
components when exposed to seismic
movements. Victaulic couplings ranging in size
from 4"-16" (100mm - 400mm) were exposed to
accelerations up to 50% greater than the Northridge, California earthquake.
https://www.nees.lehigh.edu/
The water-filled assemblies were pressurized to 200psi/1375 kPa for the duration of each test
and no pressure loss or leakage was noted
during any of the tests.
Featured Case Studies
The Petronas Twin Towers are the second tallest buildings in the world. The building needed to accommodate structure shrinkage and structure movement/sway due to wind load in risers. This required an innovative piping solution.