THERE ARE 4 ADVANTAGES OF USING VICTAULIC
COUPLINGS TO ACCOMMODATE PIPE MOVEMENT DUE TO
THERMAL CHANGES

Reduced stress on the piping system
A more compact, inspectable and productive method of installation over other pipe-joining methods such as welding
Conforms to industry practices in industrial building services
The key to effectively accommodating pipe thermal expansion and contraction in a building is to allow the predictable, controlled movement of the piping itself. This can be achieved in a variety of ways; the selection of a specific method is based upon the engineer, the type of piping system and the project parameters.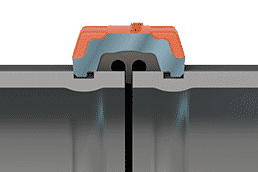 4 WAYS GROOVED COUPLINGS ACCOMMODATE THERMAL MOVEMENT
They provide an expansion joint utilizing grooved
mechanical pipe components.
They allow the system to "free-float".

They utilize the linear movement/deflection
capabilities of flexible grooved couplings.
They provide an expansion loop utilizing grooved
mechanical components.
3 REASONS WHY GROOVED COUPLINGS ARE A SMART ALTERNATIVE
Grooved pipe couplings are easier and faster to install over welding.
They accommodate movement within the design capability of the grooved coupling, and are done within the product's "free range of motion."

Piping system movement caused by pipe thermal expansion and contraction can be accommodated in smaller spaces, with low stress on the components.