Just like maintaining a home, maintaining a building can be expensive, time-consuming, and just plain difficult. At Victaulic, we are committed to making maintenance a little less difficult, and therefore a little more likely to happen. And since the industry accepts that properly maintained HVAC systems use 15-20% less energy, that is like putting cash back into an owner's pocket.
HOW DOES VICTAULIC SIMPLIFY MAINTENANCE VERSUS OTHER JOINING METHODS?
By using Victaulic mechanical piping systems, changing out or servicing equipment is as easy as loosening two bolts and two nuts. Additionally, a Victaulic grooved coupling gasket has a C-shaped cross-section seal that is durable enough to handle significant compressive and cyclical loading. All this means is that a system can be pressurized and depressurized repeatedly without fatiguing the rubber.
It is important to know that in a flanged system, the torque on the bolts employs a high compressive load on the internal gasket; this can cause the gasket to tear during disassembly.
HOW DO VICTAULIC'S VIBRATION-DAMPENING QUALITIES REDUCE MAINTENANCE?
A Victaulic mechanical pipe joining system accommodates vibration within the system, without the need for periodic product repair or replacement. Our Victaulic solutions localize vibrations by allowing the pipe to move and vibrate within the Victaulic coupling.
Welded or flanged piping systems use rubber bellows or a braided flexible hose to accommodate these vibrations; these materials can wear out over time, adding to building costs and downtime.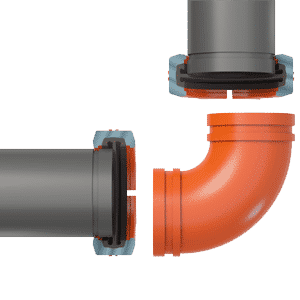 HOW DOES APPLYING A VICTAULIC COUPLING AT EVERY JOINT REDUCE MAINTENANCE?
A Victaulic coupling provides a union at every joint, allowing easy access to the system as well as flexibility for future system expansion. Replacing corrupt pipe sections, or slipping in a tee to expand or join piping systems is easily accomplished.
A welded system does not provide any unions or easy system access points.