Posted on March 23rd, 2022
Nearly a century of innovation from Victaulic helps make critical mining processes safer, faster and more efficient.
Modern mining practices have made it possible to explore vital resources deeper under the earth's surface and in extremely challenging climates and operating conditions. Mine owners continue to push new frontiers, and as they do so, they rely on robust and dependable infrastructure to work quickly and safely.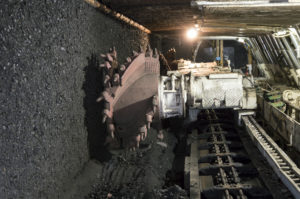 Victaulic Enters Mining Market in 1920s
As early as the 1920s, mining companies were relying on Victaulic to address their needs in both surface and underground mines. In fact, pipe joining for the mining industry was one of the earliest applications for Victaulic. Mechanical pipe couplings were easy to assemble, disassemble, move and reuse and could be installed in tight spaces with far less labor and equipment than conventional joining methods.
Dependable operational infrastructure is critical to profitability and productivity; so the components used in cooling, fire protection, compressed air, water supply/removal, slurry, tailings, backfill, and dust suppression have to be reliable. Victaulic products have been proven to reduce downtime and related costs by as much as 50 percent. And in addition to delivering reliability and efficiency, they are safer than alternative pipe joining methods because no hot work is required for installation.
Victaulic Engineers Solutions in 8 of 10 of the World's Deepest Mines
Today, Victaulic products are at work in the world's most extreme mining conditions, including eight of the world's 10 deepest mines.
The deepest mine in the world, the Mponeng gold mine in South Africa, is one of these. Reaching 2.6 mi (4.27 km) below the surface, the working areas of the mine are so near the center of the earth that temperatures regularly reach 151° F (66° C). The trip from the surface to the bottom of the mine takes over an hour.1 Mine owner AngloGold looked to Victaulic for a pipe joining solution for 3-inch (89-mm) HDPE backfill lines. More than 3,000 pieces of Victaulic Style 995 couplings were used to join the pipelines, which go down to the full depth of the mine and are exposed to extreme heat and a highly corrosive environment.
In North America, Victaulic products are in use throughout the Creighton Mine in Sudbury, Ontario, Canada's deepest nickel mine, which is now 2.42 km deep. Products from standard grooved pipe fittings to ball valves to the Victaulic Vortex™ system have been installed. And at Kidd Creek, the deepest base metals mine in the world, Victaulic Pressure Reducing Valve (PRV) assemblies are being used to ensure underground process water is distributed throughout the mine at safe working pressures.
Victaulic Innovates New Mining Solutions
As demands change for equipment performance, Victaulic systems continue to deliver. In Ontario, Victaulic's AGS™ coupling solution made the Hydraulic Air Compressor (HAC) Demonstrator project possible, providing the durability needed to test innovative ultra-deep mining technologies.  Not only is Victaulic investing in product development, but the company partners with the mining industry to discover new innovations, pushing the entire industry further, and deeper, than ever before.
To learn more about Victaulic's commitment to the mining industry, visit Victaulic's media center.
Wadhams, Nick (March 2011), "Gold Standards: How miners dig for riches in a 2-mile-deep furnace", Wired, vol. 19 no. 3, p. 42.